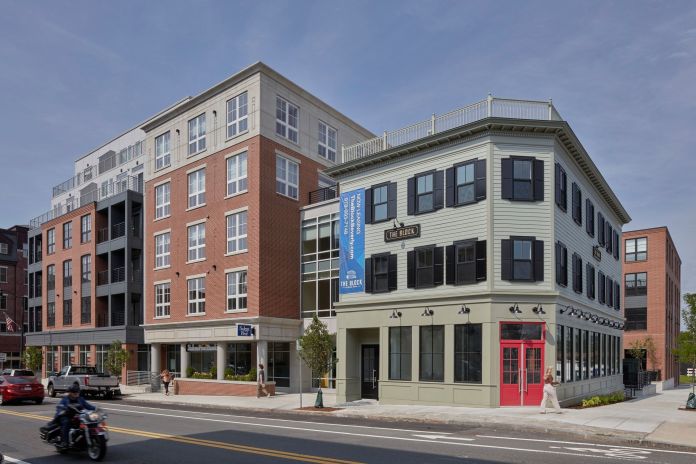 Beverly, MA– Erland Construction has completed the construction of a new 6-story mixed-use property in Beverly, MA in collaboration with SV Design. Developed by Beverly Crossing, the Block at Odell Park is a 167,230-square-foot property that features 106 residential units, 9,000 square feet of retail space, and various amenities.
Located in the heart of Beverly, the Block at Odell Park is constructed on a tight site adjacent to the Beverly Depot Train Station. It is part of a larger revitalization effort to transform the city's downtown area. The building incorporates the historic Joseph A. Appleton Building as a prominent corner element and offers a mix of studio, 1-bedroom, and 2-bedroom layouts. Amenities include a 2-story parking garage, lounge/billiards, fitness center, and an urban-style courtyard. Residents can also enjoy panoramic views of the nearby waterfront and Odell Park from the sky lounge and roof deck.
Eric Greene, Vice President and Residential Group Manager at Erland, expressed excitement about the project and its positive contribution to the community. He emphasized the importance of providing a great place to live to attract people and build the future of Beverly.
The Block at Odell Park offers residents the benefits of downtown Boston living in a smaller-scale yet urban setting. It is Erland's first collaboration with Beverly Crossing.
Chris Koeplin, President of Beverly Crossing, highlighted the design and craftsmanship of the property as evidence of their commitment to transforming Beverly into a thriving community and desirable destination.
Related
Erland Construction Completes New Mixed-Use Property in Beverly, MA

#Erland #Construction #Completes #MixedUse #Property #Beverly,